Coming up with a great idea to propose to your partner is one of the most difficult things in a relationship. For you to have an amazing proposal, you will be required to leave your comfort zone and think creatively. A pilot took a proposal to a whole new level. He popped the question while skydiving, thousands of feet above dry land.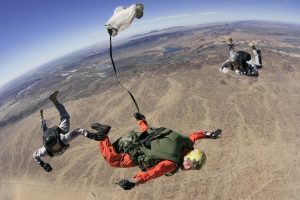 The video of this amazing proposal is going viral. The pilot, Ray, surprised his girlfriend, Katie, when he asked her to marry him after deploying the parachute. The
most exciting thing in the video is how Ray held the ring with his mouth to keep the proposal a secret. Viewers were anxious about the expensive ring dropping from Ray's mouth. That would have been a proposal gone wrong.
Luckily for Ray, the ring did not drop and he got a chance to propose after deploying the parachute.
Ray professed his love for Katie as the parachute fluttered open. He showed her the ring with one arm while controlling the camera using the other hand. The proposal came to an end without any issues after the woman said 'yes.' The newly engaged couple was ecstatic as they enjoyed the sweet moment.